Verdon 2013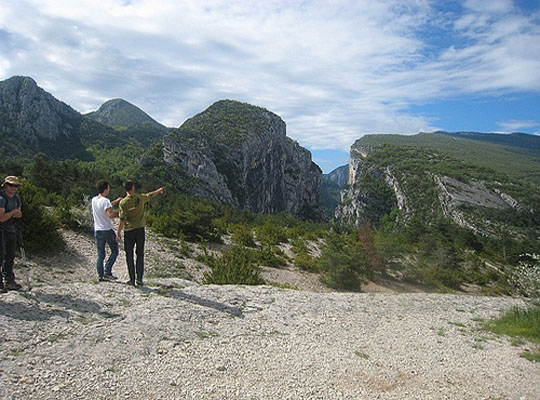 Čorko:  E! idemo početkom petog mjeseca Verdon?
Ivek: De pa to je?
Čorko: Budala! pa v Francuskoj!
Ivek: A to je onaj kanjon! Gorž du Verdon, pa kaj ne veliš! Idemo!
Koga zanima kaj je bilo dalje nek otpre celu vest, a slike poglejte tu :
 Verdon 2013 fotoalbum
Nakon što se ekipa dobro upenjala u Pakleničkim pločama zaputili smo se na jug Francuske, točnije u Verdon da se okušamo u tamošnjim pločama. Od početne osmeročlane ekipe, u zadnji tren ostalo nas je na sreću samo četvero, tri mladića i deda (babe su odustale J) .  Nakon cijelonoćne vožnje stižemo u selo La Palud i tamo bukiramo apartman za naredni period, malo ubijemo oko i popodne smo već na putu za Hulk Cave. Put do rupe je sam po sebi zanimljiv jer treba proći kanjon po tirolskoj prečki, a ispod teče mrzla i močna rijeka. Ludnica! Rupa stvarno izgleda impresivno i ima posla unutra. Smjerovi od 6a-8b+, od 15-60 metara. Umorni od vožnje i ne spavanja penjemo lagano i šparamo se za sutra.
Pa ajmo probati te verdonške plate! Sinke i Dašo odlaze u L'iversse des Profondeurs, a deda i Ivek odabiru Mescalito. Verdon je još karakterističan i po tome što se pod većinu smjerova mora prvo absajlati po absajl pisti ili tom istom smjeru i tek onda počinje penjanje. Navečer se nalazimo na vrhu stene i počinju priče. E, ti mater! Koji smer! Ništ mi nije bilo jasno tam u ono cugu, sve nakaj sitno i onda nema ničeg?!?  A tek naš smer… i tako do kasno u noć uz tamošnje vino i šum vode.
Uzimamo dan odmora i pravimo se da smo turisti, razgledavamo znamenitosti, fotografiramo i svi jedva čekamo da odemo u krčmu pogledati prognozu za sutra. Prognoza je dobra, ali piva je 6 eura! Više nejdemo u krčmu!
Sutradan odlazimo ponovno u veliku stenu, deda rešiti dug iz Mescalita, a Ivek naštundirati gibove. Sinke i Dašo odabiru smjer na ulasku u kanjon koji je vidljiv iz Mescalita. I tako je deda popeo prekokrasan  Mescalito 7c+, 200m, a Sinke i Dašo smjer ocjene 7a, al ga ne mogu naći u vodiču, pa mu ne znam ime. J
I tako red sira, red vina, red frikanja i pokvari se prognoza! A ništ! Idemo u Italiju, tam je i po kiši dobro, rekoše seljaci i pobjegoše u Arco. Nismo se previše usrećili jer u cijelom Arcu nije bilo suhog komada stene. I tak nam nije preostalo ništ drugo osim smucanja po dućanima i gacanja po pljusku. J…š ti evropu idemo na Pokojec! Tam je sigurno suho! I tako bi…
Verdon? Prekokrasno! Odlična stijena, puno sektora, još više smjerova, luda priroda…Svakako posjetiti!
Penjali smo:  
Deda do 8a
Ivek do 7c
Dašo do 7c
Sinke do 7a