BLOK: najava finala u Varaždinu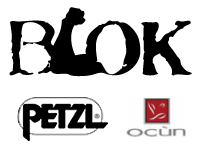 Ekipa, došli smo i do zadnjeg, šestog kola pete sezone BLOK lige! Veliko finale održat će se u Varaždinu ove subote, 15.3.2014. s početkom u 12.00 sati.
Smjerove postavlja Igor Čorko – očekujte iznimno zanimljivih 14 problema, s dodatnim grifovima za Hobby klasu i žene.
Natjecanje se održava u sportskom centru Sloboda, a penjat će se 5 rundi.
Startnine
Na ovogodišnjem finalu, statnine će poprimiti malo drugačiji oblik. Prije godinu i pol dana, u Alpama je stradao član PK Vertikala Emil Gluhak – koji je mnogim članovima našeg kluba bio instruktor u penjačkoj školi, i pomogao im napraviti prve korake u čudesan svijet planina i stijena – uključujući i organizatore lige braću Levatić.
BLOK liga će ove godine sav prikupljeni iznos startnina od finala donirati obitelji poginulog Emila, kojima PK Vertikal nastoji financijski pomoći koliko je to moguće. Startnina i dalje iznosi 20 kn, ali tko želi i može, nek slobodno donira i kunu više.
Dodjela nagrada i fešta
Dodjela nagrada za ukupne pobjednike napravit će se nakon natjecanja u dvorani (oko 17.30h), a nakon toga slijedi već tradicionalna fešta – u kafiću Green (u sklopu stadiona Sloboda), uz pivo po 10kn i domaćim zagorskim kuhanim kobasicama na jelovniku (hrana se sprema za oko 18h).
Sponzori i nagrade:
BLOK liga ove godine ima dva odlična sponzora, koji su osigurali vrijedne nagrade u ukupnom poretku, te nam omogućili da opet podijelimo tradicionalne BLOK majice:
Varaždinski Bim Sport d.o.o., generalni zastupnik za Petzl,
i zagrebački Iglu-Šport d.o.o., zastupnik za Ocun / Rock Pillars.
Powered by Petzl: Iznimno bogata prva nagrada za mušku i žensku Pro klasu: Petzl sportko-penjački komplet: uže, pojas, kaciga i gri-gri!
Powered by Ocun / Rock Pillars: Druga nagrada za mušku i žensku Pro klasu, i prva nagrada za Hobby klasu: Moonwalk crashpad!
Za ostala mjesta dijelit ćemo manje, ali još uvijek vrijedne nagrade: pojaseve, komplete, kacige i ostalo! Nagrade dobiva prvih 3 muška u Hobby i Pro kategoriji, te prvih 6 žena. Detaljnu listu nagrada objavit ćemo prije tekme!
Ukupni poredak:
Za kraj pogledajmo osvrt na trenutačni ukupni poredak. Borbe za prva tri mjesta su još otvorene u svim kategorijama, iako svaka klasa ima favorita sa nemalom prednošću. U muškoj Pro klasi favorit je Krešimir Morić, a kod žena i Hobby klase prednost drže Mateja Hohkraut te Rok Rabuza iz susjedne nam Slovenije.
Ipak, najzanimljivija borba odvijat će se za broncu i srebro u Hobby kategoriji – gdje 4 natjecatelja dijeli tek 27 bodova. To su Luka Mudronja (278), Ivan Štefičar (270), Marjan Lonjak (256) te Matija Britvec (251). Očekujemo iznimno zanimljivo finale!
U nastavku slijedi top 6  u svkaoj kategoriji:
ŽENE:
1. Mateja Hohkraut (SLO) (400, max)
2. Inga Patarčić (340)
3. Karla Vlatković (310)
4. Kaja Javorić (220)
5. Tanja Mravlinčić (204)
6. Maja Rakić (188)
MUŠKI PRO:
1. Krešimir Morić (400, max)
2. Marko Rožman (365)
3. Ivan Pevec (335)
4. Borna Čujić (320)
5. Filip Pečenec (229)
6. Jurica Levatić (212)
MUŠKI HOBBY:
1. Rok Rabuza (SLO) (365)
2. Luka Mudronja (278)
3. Ivan Štefičar (270)
4. Marjan Lonjak (256)
5. Matija Britvec (251)
6. Fran Horvat (196)
Hvala sponzorima na majicama i nagradama!